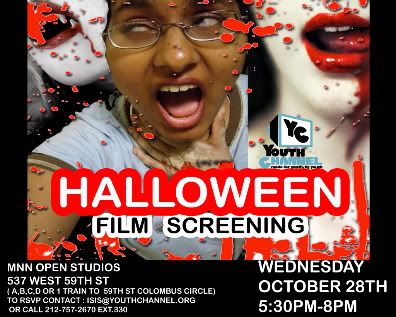 The Youth Channels Halloween Film Screening on October 28th is an event in which involves Scary Horror films made by youth and targeted towards youth from all over NYC.
This event is sure to be a cool way to start your Halloween. Eat free food, watch cool bloody videos made By Youth. There will be a special effects workshop conducted by professional Costume and Make up designer Chelsea Manifold. She will teach you all the cool and in expensive ways to trick and treat your friends.
This is an open event, so bring your friends to MNN Tv Studios. If you have cool scary films/videos you'd like to submit for the screening email us as well. This screening is sure to provide you with Great tips on how to dress-up before Halloween comes. Come and learn how you can make your own costumes and do your own makeup for that scary day, Halloween.
Etiquetas: NY, Party, USA, YOUTH CHANNEL